A glimpse into the life of Romie 18
This project serves as a visual timeline showing items that influence the lifetime of Romie 18. Containing important objects and products used on the farm, a biodynamic farm in Eindhoven and Romie 18's home, it brings the viewer into the farm environment. As you pass through the timeline, you become more acquainted with the man-made materials built around the animal world. In linear order from up to the bottom you are directed from the birth to the death of a dual purpose milk and beef producing cow.
Birth record form
During the birth season, all new calves' names are added to this form. Once complete new birth certificates can be generated using this information.
Citopogeen
Contains natural liquid soap and essential oils. Used for disinfection around calf birth.
Lubricant
A substance which supports vaginal or rectal explorations and obstetric procedures.
Identity Card
Each cow is assigned an ID Card upon birth. This is the ID Card of Romie 18's father, Leonard 2.
Identity Card
ID Card of Romie 18's mother, Romie 9.
Identity Card
ID Card of Romie 18.
Ear tag
A plastic tag with a unique number on it, attached to a cows ear for identification purposes.
Tagger
A tool used to attach the ear tag to the cow's ear.
Tagging instructions
A sheet of paper containing descriptions of how to tag a cow.
Romeo 3450's hair
Cow hair and root. Extracted by pulling from around the ear area. Hair is used for DNA tests in order to trace the paternity of newborn calves.
Shoulder length gloves
Disposable shoulder length gloves, used for artificial insemination, internal inspection and veterinary use.
Afterbirth capsule
Homeopathic veterinary medicine inserted into the cow's vagina. Used to drift off afterbirth and to control as well as preventing inflammation.
Feeding bottle
A feeding bottle used to feed milk to calves.
Grain
Produced at Genneper Hoeve, this grain is used for animal feed at the farm.
Flour
Grain is ground into powder to make flour. Flour and silage are mixed together to feed the cows.
Concentrate
Biological cow feed which contains: Grain, Luzerne, minerals and vitamins.
Straw
Bedding material used to create a surface for cows to lay on.
Hay
Dry grass for animal feed.
Silage
Fermented grass which also contains red clover, able to provide more protein to the cows.
Mineral salt lick
A stone which cows can lick. Made of essential trace elements like magnesium, zinc, copper, iodine, and selenium.
Milk filter sleeve
A filtration sleeve used to filter fresh cow milk as it is transported through the pipe into the storage container.
Tube plug
A device used to block a tube on the milking machine in case a cow has a defect udder.

Nipple cannulas
Nipple cannulas keep the nipple channel open; ideal for promoting the recovery of inflammation, broken and damaged lock holes in the event of infections, injuries or operations.
Teat Drain & Plug
The same function as the Nipple cannulas, it has extra function that allows milk to pass through a tiny hole while milking.
Cow Support P-Away Bolus
A natural supplementary animal feed for dairy cows which supports metabolism, digestion and increases feed efficiency. Inserted into the cow's stomach, the effect lasts 2 days.
Cow Support Plus Bolus
A natural mineral feed which supports resistance and regulates the immune system. Enhances a good start-up of the udder and uterus. Inserted into the cow's stomach, with a slow release time of 12 hours and has an effect of up to 10 days.
Homeopathic remedy kit
A series of homeopathic medicine used to treat the cow.
Traditional injection
A traditional device used to inject medicine into the cow.
Injection
A device used for injecting medicine into the cow.
Coffea medical product
Homeopathic medicine used to treat numerous illnesses. A stimulator for heart and blood circulation.
Immulon medical product
Homeopathic medicine for the prevention of viral infections.
Pyrogenium medical product
Homeopathic medicine for preventing udder infection.
Lacto Phyt Plus
Lacto Phyt Plus dry-off Injectors is a homeopathic medicine that is used to prevent mastitis during the dry period.
Mamil Phyt Plus
Mamil Phyt Plus is a homeopathic veterinary medicine used to treat udder inflammation in cattle.
Udder Balm
A soothing balm against mastitis or other udder problems. It stimulates the blood flow.
Klausan violet spray
A foot spray used for hoof, claw and navel care. It is 100% natural with antibacterial and anti-inflammatory properties.
Cattle spray
A smell neutralising spray of exclusively natural materials used for insect prevention.
Wound spray
A spray used for skin wounds.
Leg marking tape (green)
Velcro strip indicators which can be attached to the injured leg for marking the cow so it is easier to recognise.
Leg marking tape (yellow)
Velcro strip indicators which can be attached to the injured leg for marking the cow so it is easier to recognise.
Marker pen (blue)
Used for making marks on animals. The colour remains visible for 4 weeks on cows.
Marker pen (red)
Used for making marks on animals. The colour remains visible for 4 weeks on cows.
Hand soap (humans)
A soap used for sterilizing the hands.
Disposable hat
A hat worn for hygienic purposes when making cheese.
Starter cultures
Starter culture added to milk to begin the fermentation process. Stored at -45°C.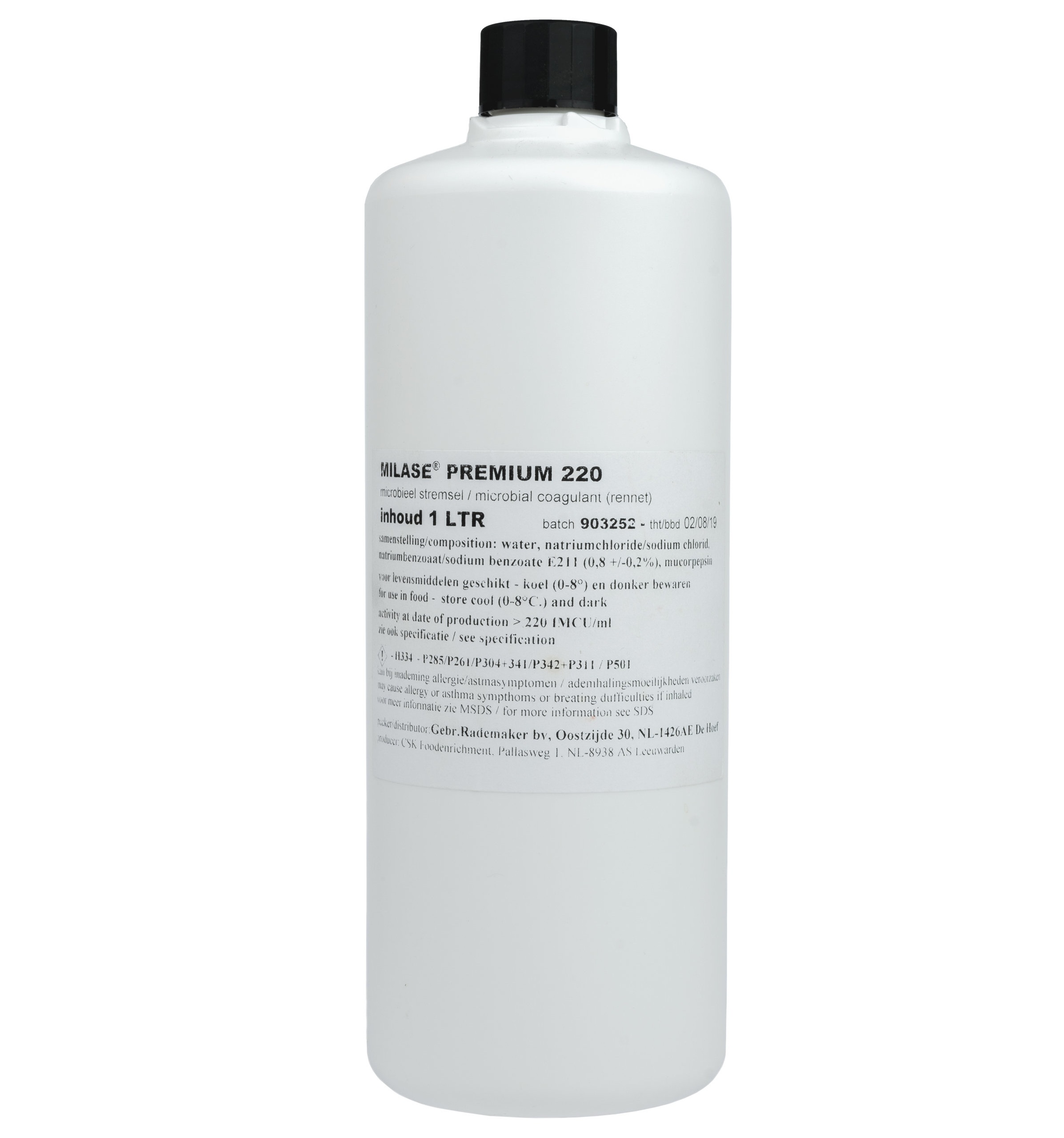 Rennet (vegetarian)
Enzymes used to separate milk into solid curds and whey.
Cheese making mould
A mould used for cheese and made up of a container, sieve and lid. The curds are pressed into shape into this mould.
Cheese coating glue
A thin glue layer applied to the outside surface for protection.
Fermented Cheese
A minimum of 6 weeks is required for fully fermenting cheese.
Slaughter certificate (for Romie 18's sister Romie 13)
A slaughter certificate which accompanies the cow to the slaughterhouse. Can be used to track the food chain information like details of the cow, farmer and slaughterhouse

Sausage
The end of a cow's life at the meat product stage.